Contract Therapy

Services
PRN Home Health & Therapy partners with Skilled Nursing Facilities (SNF's) and Assisted Living Facilities (ALF's) throughout Wisconsin to provide compassionate, professional therapy services, improving patient outcomes and reducing the risk of rehospitalization. We are unique in that our team can follow the patient home to continue therapy while the patient is homebound, then back to the SNF for outpatient therapy as needed. It's our Continuum of Care.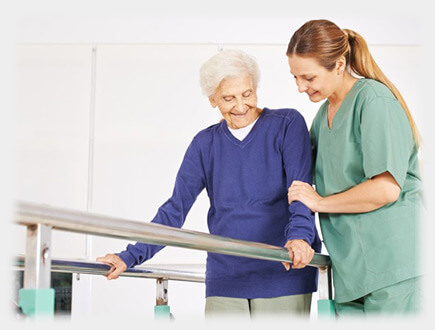 PRN Home Health & Therapy Expertise
Physical Therapy
Occupational Therapy
Speech Language Therapy
Advanced Modalities
Lymphedema Management
LSVT Big & Loud Therapy Certified
Specialized Treatment Programs
When managed correctly, therapy is a significant source of income for facilities.  PRN Home Health & Therapy does not only provide staffing, but also ensures growth of the facility's rehabilitation programs and in turn overall success. We contract with facilities to assist our partners in reaching their full potential as well as accomplishing maximum patient success and satisfaction.
PRN HOME HEALTH & THERAPY VALUE ADDED SERVICES
PRN Home Health & Therapy supports your success by providing additional, no-cost services to our therapy partners which are unmatched by the competition:
Ongoing facility in-services
Implement, train and supervise restorative nursing programs
Train families on caregiving needs
Attend patient and family care conferences
Identify and implement programming opportunities
Provide monthly resident screenings
Coordinate Medicare benefits with the facility
Consult on and participate in marketing therapy to the community
Supply equipment necessary for therapy services, including modalities, computers and therapy software
Our health care professionals make transitioning to a new contract rehabilitation provider seamless and discreet, eliminating disruptions between patient and facility relationships. Partnering with PRN Home Health & Therapy does not mean your valued employees are lost; we build therapy programs in accordance with the individual facility's needs.
Patient hospital stay.
Skilled Nursing Facility (SNF) stay with inpatient rehabilitation by PRN Therapist.
Discharge home with Home Health Services by PRN Therapist.
When no longer homebound, patient returns to SNF for outpatient therapy by PRN Therapist.
Patient recovery allows independence at home.