First of all, what is home health nursing? Home health nurses provide one-on-one care for patients in the comfort of their own home. When working with PRN Home Health & Therapy, often "home" means providing services in an assisted living or skilled nursing facility, but it can also be a patient's residential home.
If you're getting started in your nursing career, check out this blog done by our sister company Nurses PRN about how to become a registered nurse in 2021. Some things you will need to complete in order to become a home health nurse in Wisconsin is:
Graduate from an accredited nursing program with either an associate's degree in nursing or a Bachelor of Science (BSN).
Pass the NCLEX exam for licensure or renew your Wisconsin RN license.
Once it's time to decide on a specialty for your nursing career, here are a few things you should keep in mind when it comes to home health nursing.
Your Duties Expand Far and Wide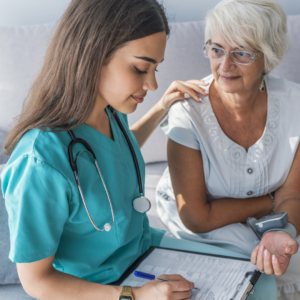 As a home health nurse in Wisconsin there will be a variety of job duties that you could perform on a daily basis. The skilled nursing care tasks you may be providing are: wound and dressing care, pain management, lymphedema management or management of diabetes and insulin therapy. This is not an all-encompassing list, but it's a start. There are a variety of skills that every nurse needs to have to help them with their wide variety of tasks. These skills include: good communication, empathy, adaptability, teamwork, organization, critical thinking and decision making.
Your Schedule Will Be Flexible and Consistent

One great thing about home health nursing is that you can give input when creating your schedule for the week. This gives home health nurses a great work-life balance. Have an appointment at 9 a.m. or a kid's soccer game to get to at 4:30 p.m.? You can help manage your time to make sure those work in your schedule. Home health nursing also gives you consistency since you'll see one patient multiple times instead of switching to someone new every work day. Seeing your patients on a consistent basis also means that you get to build great connections and truly get to know them.
You Will Need to Travel at Times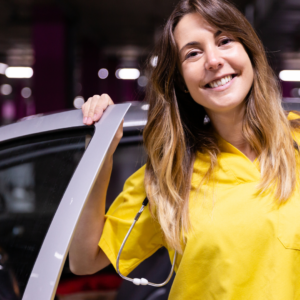 Traveling is definitely part of the job when it comes to home health nursing as you will be traveling to primarily assisted living facilities and occasionally residential homes in your area to provide care to your patients. This is why flexibility in your scheduling as a home health nurse is huge. You can avoid being in the car more than needed by organizing your schedule so you see patients in the same area on the same day.
You Will Learn How to Handle Difficult Situations and Stress
Although this profession can be very rewarding, it does come with challenges and difficult situations, like every job. First and foremost, check in on your mental health. Coworkers are also a great support system as they know exactly what you are going through; lean on them during these times. It's also important to find outlets to relieve the stress that comes with this job. Exercise, journaling, and getting enough sleep are all great tools to help eliminate stress.
There is so much to learn when becoming a home health registered nurse, but we are here for you every step of the way. Home health nurses are an important part of our patient's care team here in Wisconsin. You are providing them comfort by bringing their care directly to them instead of them having to leave their home for every appointment. Ready to get started as a home health nurse in Wisconsin? You can check out all of our positions on our careers page!