Category Archives: For the Patients & Families
Definition
In healthcare, the continuum of care is when a healthcare professional follows a patient through the different stages of care they receive. The goal of the continuum of care is to get the patient back to their baseline state of health or to exceed where they were before. At PRN Home Health & Therapy, we encourage following a continuum of care for our patients when it comes to therapy services. We follow this to ensure their recovery is not disrupted when moving from a hospital to a skilled nursing facility and then back home again.
The Components to the Continuum of Care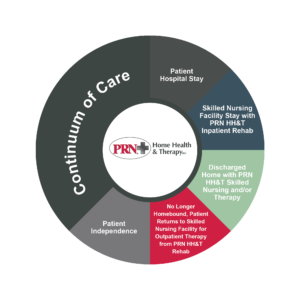 Patient Hospital Stay: Oftentimes, a patient's home health care journey starts with a hospital admission. This could be due to a fall or when a decline in their health is noticed.
Rehabilitation After Hospital Stay: Following a hospital stay, a patient's doctor may recommend to starting rehab at a skilled nursing facility. PRN home Health & therapy partners with nursing facilities across Wisconsin to provide inpatient rehab to their patients.
Discharge from Skilled Nursing Facility: Our team members can work with patients upon discharge to provide therapy and nursing services in the comfort of their own home.
Patient is No Longer Homebound: Once a patient is no longer homebound, it may be recommended by their doctor that they return to a skilled nursing facility or an outpatient therapy clinic for continued rehabilitation.
Patient Independence: At this stage in the continuum of care, a patient is no longer receiving therapy services through PRN Home Health & Therapy.
Why Continuum of Care Is Important?
This is an important part of our process because it is a proactive approach to keeping residents at home longer. The goal is to reduce falls and prevent future hospitalizations that put patients back at the start of our continuum of care. For more information on the home health care services we offer, contact us today!
What is Home Health Care?
Home health care is when patients do not need to leave the comfort of their own home to receive the medical care that they need. "Home" for a patient could be their family home, a senior apartment community, an assisted living facility or in their loved one's home. To qualify for home health care, a patient must meet these three requirements:
Patient must be homebound.
Have a referral from their medical provider saying they need home health care services.
Must have a skilled need, or care that must be performed by a skilled professional.
What Qualifies a Patient as Being Homebound?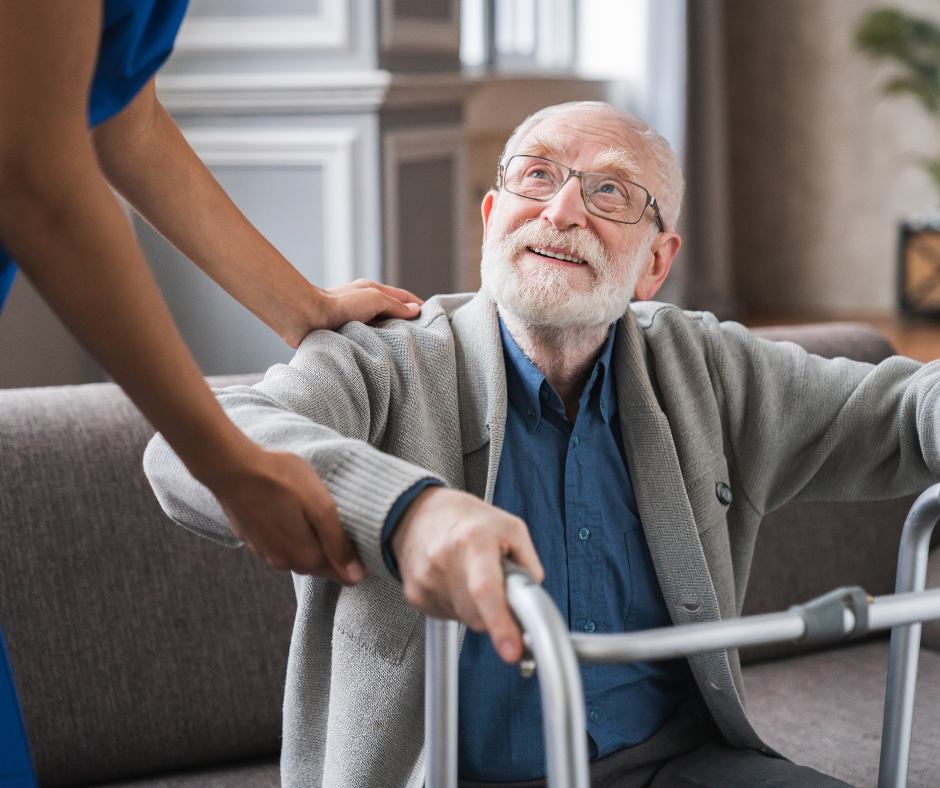 Being homebound means that a patient is not able to leave their house without assistance from someone else or from an assistive device. These devices could be a wheelchair, walker or crutches. Being homebound could also mean that a doctor feels if a person leaves home that their health could worsen or put too much strain on that patient.
Types of Home Health Care We Provide
At Home Nursing Care: Skilled nursing care includes wound care, medication management and pain management.
At Home Therapy Care: This could be physical therapy, occupational therapy or speech therapy.
How to Know if Home Health Care Should Be Considered?
There are four main categories we use to evaluate when home health care is needed.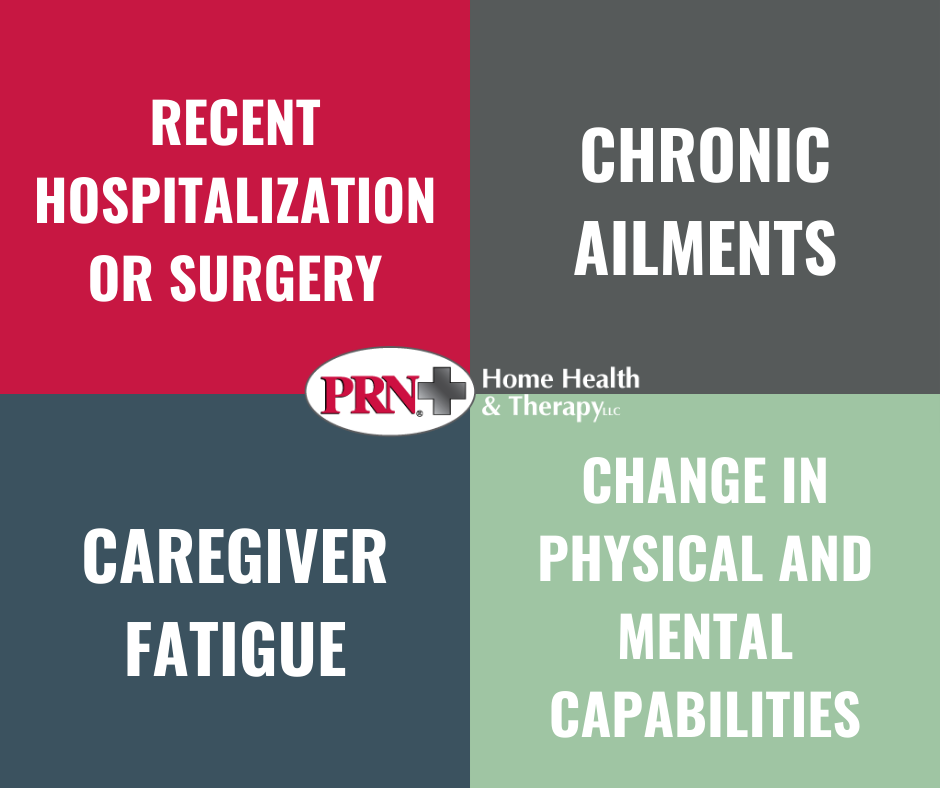 Specific indicators that home health care may be needed include:
Recent Hospitalization/Surgery

Multiple visits to the emergency room
Recent hospital admission
Post-surgical care
Wound care and infection control

Caregiver Fatigue

We are here to help prevent caregiver burnout by providing strategies and education to them.
Primary caregiver can no longer give the quality of care needed

Change in Physical and Mental Capabilities

Change in ADL's (activities of daily living)
Change in communication and cognition
Frequent falls
Social withdrawal
Help required with walking
Difficulty managing medications
Limits on physical mobility
Difficulty swallowing
Incontinence

Chronic Ailments

Uncontrolled pain
Skin changes (skin breakdown, redness at pressure points, chronic wounds)
Chronic illness with periods of instability
Neurological disease including Parkinson's and Alzheimer's
Complications due to diabetes, heart disease or pulmonary disease
Payment Types Accepted
Home health care services are covered through a patient's Medicare benefits. To see if you qualify please contact our office.
How Can Someone Request Home Health Services?
You can contact our office by calling 920.830.9911 OR fill out the form on our website here. For more FAQ related to home health care services you can visit our FAQ page.