What is a Caregiver?
A caregiver provides extra help for a person who needs it. Normally caregivers jobs are within assisted living facilities and they provide care for the geriatric population. A caregiver plays a vital role in the health and well-being of the residents who live in these facilities.
What Can I Expect to Do as a Caregiver?
Caregiver responsibilities can change by the day. Each work day will never be completely the same. Below are a few of the tasks someone could be responsible for in a caregiver position at an assisted living facility or skilled nursing facility:
Light housekeeping or assist with meals. Assisting with meals could mean bringing them their food or helping bring the residents down to the dining hall for breakfast, lunch or dinner.
Caregivers may also assist in medication management and administration to the residents.
At times caregivers may also help with essential tasks for residents such as bathing, dressing or helping with other personal care needs.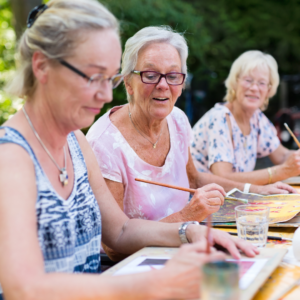 One fun part of the job is helping provide social engagement to the residents by working on activities, playing games or participating in light exercises, like walks.
One rewarding part of being a caregiver is being a support system for the residents by being a smiling face and caring personality that they get to interact with on a daily basis.
Although this is not a complete list of tasks a caregiver may perform on the job, they all play a vital role in the health and well-being of the residents.
Are There Certifications Required to Apply for a Caregiver Job?
Right now there is no certification needed to become a caregiver. The facilities PRN Home Health & Therapy partner's with will provide on the job training, which means no experience is required before you apply for a caregiver position. If you would like to take caregiving responsibilities one step further, you can become a Certified Nursing Assistant (CNA). To find out more information related to becoming a CNA visit the Wisconsin Department of Health Services website.
I'm Ready to Become a Caregiver, How Can I Apply?
If you're ready to start your next caregiver job, check out all of the opportunities our partners have available throughout Wisconsin here. Once you finish your application someone from the facility will reach out to you regarding next steps!