Definition
For our industry the continuum of care is when a healthcare professional follows a patient through the different stages of care they receive. The goal of the continuum of care is to get the patient back to their baseline state of health or to exceed where they were before. At PRN Home Health & Therapy, we encourage following a continuum of care for our patients when it comes to therapy services. We follow this to ensure their recovery is not disrupted when moving from a hospital to a skilled nursing facility and then back home again.
The Components to the Continuum of Care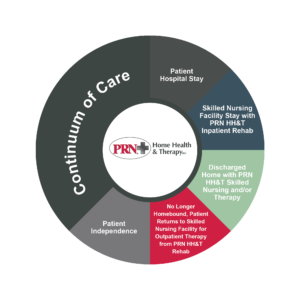 Patient Hospital Stay: Oftentimes, a patient's home health care journey starts with a hospital admission. This could be due to a fall or when a decline in their health is noticed.
Rehabilitation After Hospital Stay: Following a hospital stay, a patient's doctor may recommend to starting rehab at a skilled nursing facility. PRN home Health & therapy partners with nursing facilities across Wisconsin to provide inpatient rehab to their patients.
Discharge from Skilled Nursing Facility: Our team members can work with patients upon discharge to provide therapy and nursing services in the comfort of their own home.
Patient is No Longer Homebound: Once a patient is no longer homebound, it may be recommended by their doctor that they return to a skilled nursing facility or an outpatient therapy clinic for continued rehabilitation.
Patient Independence: At this stage in the continuum of care, a patient is no longer receiving therapy services through PRN Home Health & Therapy.
Why Continuum of Care Is Important?
This is an important part of our process because it is a proactive approach to keeping residents at home longer. The goal is to reduce falls and prevent future hospitalizations that put patients back at the start of our continuum of care. For more information on the home health care services we offer, contact us today!